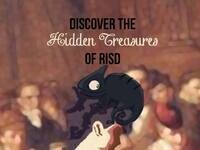 Discover the Hidden Treasures at RISD
The Staff Council presents the first in our series: Discover the Hidden Treasures of RISD.
The first event will take place: Friday, April 12 from 11:30 am to 1:30 pm. (meet in the Danforth room.)
There will be two talks: one at noon, and one at 12:30, given by Horace Ballard on "Ways of Looking", an introduction to ways of looking at works of art, using the William Powell painting, The Salon d'Or, Homburg, 1871. Join one, or stay for both!
Then, feel free to mingle in the Danforth room, where refreshments will be served! You can RSVP here.
This event is free and open to RISD faculty, staff, and students.
Friday, April 12, 2013 at 11:30am to 1:30pm
RISD Museum, Danforth Room
224 Benefit Street, Providence, RI