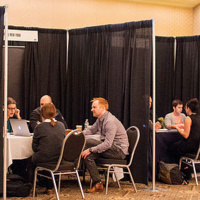 RISD Careers | Recruiting Day
Companies and other organizations on campus for the Design Portfolio Review will conduct scheduled interviews with selected students for current openings. All interviews will be conducted at the RI Convention Center, 1 Sabin Street, 5th floor.
Mobile Users: Click the 'Website' link you see below and then click 'RSVP here!' when you arrive at the new website window.
Friday, March 15 at 9:00am to 5:00pm
Rhode Island Convention Center, 5th floor 1 Sabin Street, Providence
Event Type

Departments
Subscribe