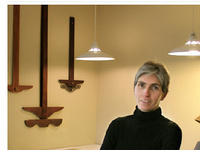 DEC 1 | WATTS Workshop: Maureen Cummins, "How to Start Your Own Fine Press and Publishing Venture."
In this one-day workshop, students will receive an introduction to all aspects of running a small press publishing venture, from designing, printing, and binding books to how to sell the editions once they're completed. The workshop will end with a display of handmade books in the instructor's collection. This workshop will be led by Watts visiting artist Maureen Cummins.
Limited to 15 Brown/RISD undergraduate students. Please register. Location TBD.
Maureen Cummins will visit the John Carter Brown Library from November 29th to December 1st as part of the Charles H. Watts II History and Culture of the Book Program. Her opening lecture, Artist as Archivist will take place on November 29th in the MacMillian Reading Room at 6:00 pm and is free and open to the public. On November 30th, Cummins will lead Brown/RISD undergraduate students on a tour of the RISD Special Collections Artist Book Collection. On December 1st, Ms. Cummins' residency will conclude with an undergraduate workshop on How to Start Your Own Fine Press and Publishing Venture.
Saturday, December 1, 2012 at 10:00am to 4:00pm
John Carter Brown Library, Location TBD
94 George Street, Providence, RI