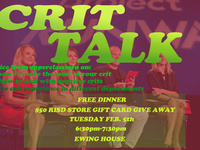 Crit Talk
Student led discussion about the in's and out's of RISD critique.
Get advice from upperclassman about:
-how to make the most of your crit
-how to deal with negative crits
-the crit experience in different departments
-and more!
FREE DINNER
$50 RISD STORE GIFT CARD GIVE AWAY
6:30pm-7:30pm
Ewing House
Part of the ISE Mentoring Program Series
All students welcome.
Tuesday, February 5, 2013 at 6:30pm to 7:30pm
Ewing Multicultural Center, Main Lounge
41 Waterman Street, Providence, RI
Event Type

Departments
Hashtag

Subscribe