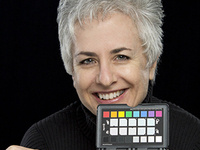 Color Management for Graphic Designers Webinar
Color Management for Graphic Designers & Fine Art Professionals: What every designer and artist needs to know about managing color with Martha DiMeo, Digital Imaging and Photoshop Specialist
Tuesday, March 10, 2015
6:30 p.m. - 7:30 p.m. EST
Fees: $12 RISD Alumni, CE + Friends; $0 RISD Students
Registration: http://www.cvent.com/d/prqkfl/1Q
There is no escaping it. If you are a print designer, web designer, illustrator, or fine artist—and you desire accurate, consistent, and predictable color reproduction—a color-managed workflow is essential. In this hour-long webinar, Digital Imaging Specialist Martha DiMeo will demystify the process and introduce you to 3 key components of implementing a color-managed workflow: display calibration and profiling, embedding and honoring profiles, and the importance of controlling your physical work environment.
You will come away with an understanding of color management's role in the digital color workflow and the necessary steps to achieve consistent, predictable, and repeatable color from capture to final output.
Bonus for Painters & Illustrators: Very often, artists are disappointed when they see their artwork printed. Accurately reproducing the color in paintings and other fine art pieces presents its own unique set of challenges. Following the main talk, there will be a brief post discussion on art reproduction. If your artwork is reproduced in books, gallery catalogs, or printed on postcards and other promotional material, you'll want to stick around for this follow-up conversation.
Tuesday, March 10, 2015 at 6:30pm to 7:30pm
Online
Event Type

Departments

Website