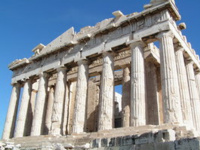 Call for Entries: Contemporary Visions of Greece's Golden Age (Deadline March 17th)
ELIGIBILITY: This is a national call for artists, open to all, at any stage in their professional careers. Artists may submit up to 3 images for consideration.

THEME: Art work accepted will be inspired by artistic ideals and achievements of the classical (480-323 BC) and Hellenistic (323-146 BC) periods in Greek history as an imaginative springboard for a contemporary twist on Greek sculpture, low and high relief, painting, pottery, frescoes, mosaics, and architecture. Consider the definition of beauty in human terms, with an emphasis on harmony, balance, order and moderation, vitality of life, clarity, and depictions of everyday life as well as mythology.
MEDIUM: All media welcomed
SUBMISSION REQUIREMENTS:
Works in all categories will be accepted for review. These categories include, but are not limited to: painting, sculpture, mixed-media, works on paper, fabric and photography. Works must not exceed 36" in any direction or 30 pounds in weight.
All work selected for this show, must be presented ready for hanging on the walls, must be framed (if applicable), professionally presented, and securely wired. Artists are responsible for providing adequate instructions for handling of fragile work and/or unconventional installations of artwork, within reason.
Please keep in mind, Brush Art Gallery and Studios is open to the public. All submissions should be suitable for both children and adults. Submissions will be reviewed for exhibit suitability and response to show theme.
METHOD OF SELECTION: Uploaded digital images only (no disks, slides or photographs)
ABOUT THE JURORS:
Suzanne Scanlan, Lecturer, History of Art + Visual Culture, Rhode Island School of Design
BA, Stonehill College; PHD, Brown University; MA, Brown University
David Nolta, PhD, Professor, History of Art, Massachusetts College of Art and Design
BA, English and Art History, University of Michigan; MA, English Literature, University of Chicago; PhD, History of Art, Yale University
Jennifer Hache', Exhibitions and Fabrications Department, Art Handler, Worcester Art Museum
M.A., Art history, Amherst, University of Massachusetts
COMMISSION: 40%, 30% for current Brush members
ENTRY FEE: $25.00. Up to 3 entries, 2 views each
PRIZE: $1000.00 cash award for Best in Show.
LINK to APPLY http://www.lowellartshows.com/greece/
Full Prospectus http://www.thebrush.org/PDFgallery.htm
Thursday, March 16, 2017 to 12:00am