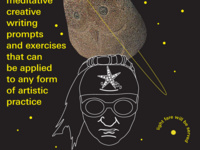 CAConrad (Soma)tic Poetry Workshop
Explore the extreme present through meditative, creative writing prompts and exercises that can be applied to any form of artistic practice.
CAConrad is the author of 8 books
of poetry and essays, including
ECODEVIANCE: (Soma)tics for the
Future Wilderness, which won the
2015 Believer Magazine Book Award.
Co-sponsored by the RISD Writing
Center and Literary Arts + Studies,
with support from the RISD Liberal
Arts Humanities Fund
Light fare will be served.
Thursday, April 21, 2016 at 6:30pm to 8:30pm
Tap Room
226 Benefit Street, Providence, RI
Event Type

Departments

Website