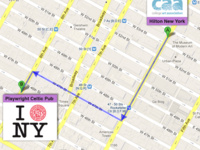 CAA Mixer
Hello RISD CAA Conference goers!
Welcome to New York City.
Take a break from the conference and spend a couple of hours in NYC hanging out with fellow RISD Alumni...We'd love to see you there.
Place: Playwright Celtic Pub & Restaurant
Address: 732 8th Avenue, New York, NY 10036
Date: Wednesday, February 13th
Time: 7:00pm to 9:00pm
NYC FACT #1: New Yorkers travel an average of 40 minutes to work each day.
The RISD New York alumni club has a great space to relax and make connections just a short walk from the CCA headquarters at the Hilton Hotel. (See a map)
NYC FACT #2: In 2007, 46 million visitors came to New York City. They spent approximately $28 billion.
Did we mention that we flexed our RISD muscle to secure amazing drink specials for this occasion?
NYC FACT #3: New York's Yellow Cabs are yellow because it is the easiest color for the eye to spot.
We have no way to tie this in, besides the yellow walls inside the restaurant.
BONUS FACT: At the same time on this date you could attend the CAA Reception at the Solomon R. Guggenheim Museum for a price of $40. By the way, tickets will not be sold at the museum so you have to purchase them in advance.
However, if you attend the RISD event you will get the latest information about galleries and events for free, straight from the mouth of working New York City artists and designers.
Cheers,
Your RISD NYC Alumni
Wednesday, February 13, 2013 at 7:00pm to 9:00pm
Playwright Celtic Pub and Restaurant 732 8th Avenue, New York, NY 10036
Event Type

Departments

Website
Hashtag

Subscribe