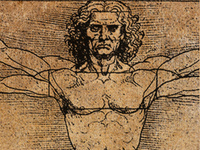 Body of Work: Occupational Injury Prevention for Artists
Body of Work: Occupational Injury Prevention for Artists
with Lisa Hillengas [07 SC]
Art as a physical practice puts specific, and often prolonged, demands on the body of the artist. Aristotle said, "We are what we repeatedly do." This is quite literally the case with occupational impacts in physical health, yet it is often overlooked in the visual arts field.
This webinar will discuss these specific occupational risks as well as identify the overuse injuries most common to the visual artist. Whether you are painting a canvas, rocking a copper plate, or drawing on a Cintiq, it will address how to reduce stress and strain to help avoid injury and maximize efficiency. The preventative measures Lisa will share include techniques in posture, body mechanics, stretching, and more. Learn what you can do to promote your health and wellness as a visual artist so you can keep doing what you do.
About the Speaker:
Lisa Hillengas [07 SC] holds a BFA in Sculpture from the Rhode Island School of Design and has worked as an artist assistant and assistant art preperator. She is also a classically trained Pilates teacher certified by the Pilates Method Alliance, the only nationally accredited Pilates certification program. Lisa has been teaching Pilates since 2009 and continues to teach as Principal Instructor at Endurance Pilates and Yoga Studio in Boston. She has worked with a variety of clients, from professional ballerinas to soccer moms (and dads) to those with health conditions such as osteoporosis, spondylolisthesis, multiple sclerosis and cancer. She is also currently pursuing a physical therapist assistant degree at Bay State College.
*Registration includes a link to the webinar after it airs, so you don't need to be present to enjoy it later! ALUMNI - use code "RISD1877" for $5 off!
Tuesday, January 17, 2017 at 6:30pm to 8:00pm
http://risd-bodyofwork.eventbrite.com
Event Type

Departments

Website