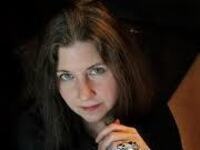 Beyond RISD: Dana Schneider '82/SC
It's no secret that RISD students are driven, passionately focused on their work, and deeply committed to developing their full creative potential. Beyond RISD is an alumni lecture series that provides students and alumni an opportunity to consider how their unique capabilities can provide the key to a successful career.
All of the Beyond RISD speakers have built a successful career on the foundation of their RISD education. Come and learn how RISD can impact your future!
Dana Schneider is best known for her creation of The Hunger Games' iconic Mockingjay pin worn in the movie but the jewelry designer has fashioned original pieces for over 60 films, including The Matrix sequels, X Men 2 & 3, Terminator Salvation and Tron: Legacy. A graduate of RISD with BFA in Sculpture in 1982 has been a self employed jewelry designer since 1985. In 1999, Schneider moved to Los Angeles with the specific intention of designing jewelry for film and has been doing so ever since.
Beyond RISD is brought to you through the generosity of RISD trustee and alumnae Lisa Pevaroff-Cohn '83/TX.
Tuesday, February 5, 2013 at 7:00pm
Metcalf Auditorium, Chace Center/RISD Museum
Chace Center, 20 North Main Street, Providence, RI
Event Type

Departments

Website
Hashtag

Subscribe