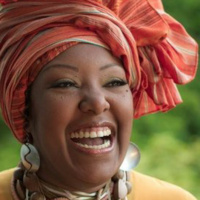 Performance | Betsayda — The Voice of Venezuela
A spirit-shaking percussion and voice fiesta, said to make dancers float!
Venezuelan singer Betsayda Machado and her multigenerational band of musicians and dancers, La Parranda El Clavo, hail from the tiny Venezuelan village El Clavo—where their music has been igniting parties in the town square for more than 30 years. These masterful performers have called new attention to the Venezuelan Afro-Soul beats known as tambor. Appearing at FirstWorks following their triumphant presentation at the WOMEX showcase in Poland, Betsayda and Parranda El Clavo are "the kind of group that world music fans have always been thrilled to discover: vital, accomplished, local, unplugged, deeply rooted." (The New York Times)
A limited number of tickets are available to the RISD community. Use access code TAMBOR at checkout and present a valid RISD ID at the door.
Presented by FirstWorks' Frontier Series, in partnership with the Division of Liberal Arts, RISD.
Sunday, March 18 at 7:00pm
RISD Auditorium
17 Canal Walk, Providence RI
Event Type

Departments

Website