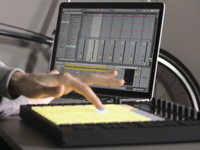 CTC: Ableton Live workshop with Ben Casey
Ben Casey of Ableton, Inc. will present an introductory workshop on Ableton Live and Max for Live software.
Hosted by RISD CTC (Computation, Technology, and Culture)
Ben Casey is a Brooklyn-based electronic musician, Ableton Certified Trainer, and overall music tech nerd. When he's not surrounded by wires and drum machines or tinkering with Max for Live, Ben teaches Ableton Live to musicians across all genres, from avant-garde to zydeco. While living in London he earned an MMUS from Goldsmiths University, and released tracks on the inscrutable UK-based label Werk Discs. Upon returning to the US, he founded a boutique electronic instrument business. A Live user since its very beginning, Ben is always happy to show off his boxed copy of Version 1. He works with Grammy-winning artists to integrate Live into their existing production and performance workflows, consulting on numerous live tours, theater productions, and art installations. With a focus on teaching the tips and tricks that allow musicians at any skill level to harness the power of Live, Ben is available for one-on-one sessions and group lessons in person, or Skype lessons worldwide.
https://www.ableton.com/en/live/
https://www.ableton.com/en/live/max-for-live/
https://www.ableton.com/en/certified-training/ben-casey/
Thursday, March 23, 2017 at 7:00pm to 9:00pm
College Building, 521 (Old Library) 236 Benefit St.